from Day by Day with the Persecuted Church

Jesus Christ is the same yesterday and today and forever. (Hebrews 13:8)
Pastor Samuel Lamb
We too often think that God only performed miracles in the time that Jesus walked on earth. What a pity to think that way. Not only because it is not true, but also because it stops us from expecting God's miracles in our own life today.
When I was a child I became very sick one day. The doctor who examined me told my father that I only had a ten per cent chance to stay alive. I was taken to a hospital where the doctor confirmed that there was hardly any chance for me to survive. My father said, "If my son has only a ten per cent chance of survival and is going to die I want to take him to die at home." When we arrived home he asked all the Christians in the village to come to our house to pray. They prayed all through the night. The next day the doctor came to our house thinking I must be dead by now. When he saw me and examined me, he could only speak one word, "miracle." I was completely healed. You see, God not only knows about our spiritual suffering, but also about our physical problems. Jesus Christ is the same today. He still performs miracles, trust Him and seek His help. Too many people never ask - they only discuss, "What if God does not help?" Discuss less, pray more, and you will experience the power of God - even when God answers in a way you did not expect Him to.
Writer for the month - Samuel Lamb from China. This noted pastor was in prison for over 20 years. He is still under great pressure from the authorities. Hundreds attend his so-called House Church, especially young people. His story is available in a book Bold as a Lamb published by Zondervan, 1991.
Copyright [C] 1995 Open Doors International. Used by permission.
Click here to sign up for a free monthly newsletter from Open Doors about persecuted Christians.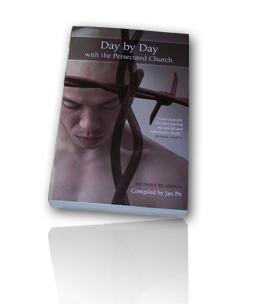 Day by Day with the Persecuted Church
compiled by Jan Pit with a forward by Brother Andrew (paperback, revised 2000)
Compelling wisdom from the pen of actual believers living amidst persecution, you'll be connected to the suffering, courage, and depth of life that exists in the harshest places in the world. Each of these 365 thought-provoking devotions will deepen your understanding of Christian persecution and provoke you to pray for our brothers and sisters with a new found depth.