from Day by Day with the Persecuted Church

Consider it pure joy my brothers, whenever you face trials of many kinds. (James 1:2)
Pastor Samuel Lamb
In the Old Testament, people received joy after they suffered. But in the New Testament the disciples rejoiced while they suffered (1 Peter 4:14; Matthew 5:11, 12).
When we suffer for Christ, not only do we have to rejoice, but we have to rejoice greatly. "In this you greatly rejoice..." (1 Peter 1:6).
"Blessed are you when men hate you ... because of the Son of Man. Rejoice in that day and leap for joy" (Luke 6:22, 23).
"The apostles left the Sanhedrin, rejoicing because they had been counted worthy of suffering disgrace for the Name" (Acts 5:41).
In Luke 6 the disciples are told to leap for joy because they will receive a great reward in heaven. In Acts 5:41 the apostles rejoiced because of their unity with Jesus. Because we love Him, the world will hate us.
We should not look at the hatred, the insults, the persecutions or hardships but at Jesus. He suffered - so will we. He was glorified - so shall we be. He lives forever - so will we.
"I consider that our present sufferings are not worth comparing with the glory that will be revealed in us."
Twenty years in prison is long. Very long. But not worth comparing with the eternity which awaits us. What a future - what a joy!
Writer for the month - Samuel Lamb from China. This noted pastor was in prison for over 20 years. He is still under great pressure from the authorities. Hundreds attend his so-called House Church, especially young people. His story is available in a book Bold as a Lamb published by Zondervan, 1991.
Copyright [C] 1995 Open Doors International. Used by permission.
Click here to sign up for a free monthly newsletter from Open Doors about persecuted Christians.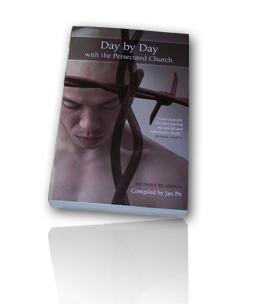 Day by Day with the Persecuted Church
compiled by Jan Pit with a forward by Brother Andrew (paperback, revised 2000)
Compelling wisdom from the pen of actual believers living amidst persecution, you'll be connected to the suffering, courage, and depth of life that exists in the harshest places in the world. Each of these 365 thought-provoking devotions will deepen your understanding of Christian persecution and provoke you to pray for our brothers and sisters with a new found depth.