from Day by Day with the Persecuted Church

Since they did not think it worthwhile to retain the knowledge of God, he gave them over to a depraved mind; to do what ought not to be done. (Romans 1:28)
Li An
A brother was on trial for his faith in the Lord. When the prosecutor interrogated him he asked the brother, "You believe in God, tell us where your God is."
The brother replied, "He lives in my heart."
"Prove it, we do not believe in spiritual things."
So the brother gave his testimony.
"You are speaking rubbish," the prosecutor said angrily. "You are making things up; they are a pack of lies."
"You can go and find out for yourself," the brother replied.
Two years later the brother was brought to the court again. To his surprise the prosecutor said, "We have carefully looked into the things you told us; 80% is true, but we still don't believe there is a God."
"Then how do you explain the 80%?" our brother asked.
"We don't need to explain. We have enough evidence to conclude that you are a weird person." So they sent this brother back to jail...
What can we learn from this?
· That we must never compromise. We must be willing to pay the price - any price - for our faith.
· That, because of their unwillingness to acknowledge God, people can fall into deeper darkness than ever before.
Have you seen God at work? Have you responded?
Writer for the month - Li An from China. Because he is well-known in China, he requested that his real name was not published. We have used the pseudonym, Li An.
Copyright [C] 1995 Open Doors International. Used by permission.
Click here to sign up for a free monthly newsletter from Open Doors about persecuted Christians.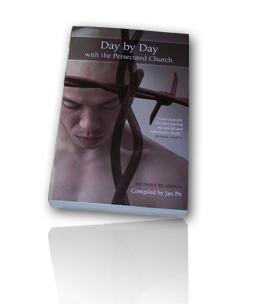 Day by Day with the Persecuted Church
compiled by Jan Pit with a forward by Brother Andrew (paperback, revised 2000)
Compelling wisdom from the pen of actual believers living amidst persecution, you'll be connected to the suffering, courage, and depth of life that exists in the harshest places in the world. Each of these 365 thought-provoking devotions will deepen your understanding of Christian persecution and provoke you to pray for our brothers and sisters with a new found depth.