from Day by Day with the Persecuted Church

He will cover you with his feathers, and under his wings you will find refuge; his faithfulness will be your shield and rampart. (Psalm 91:4)
Lucien Accad
It was late at night. We woke up suddenly because of the noise of shelling and realized we were again in the midst of a battle. I heard a knock at our bedroom door. Two of our young children came in and said, "Dad, Mom, it's frightening in our room. Can we stay in your bed? If we die, let's die together!" The youngest child did not wake up.
We started praying together and sang a few hymns, after which they fell asleep, but I could not. Many questions were coming to my mind. "Can the Lord keep us another time? Should we go and take refuge in the nearby shelter?"
I put on my clothes and looked out of the window in the direction of the shelter. The electricity wires had been cut by shrapnel and we were in the dark. Cars were ablaze just in front of the shelter not far from our own car, but no one dared go to extinguish the fire because of the shelling. Dark smoke was being blown in the direction of the shelter, and I could hear screams coming from there.
I heard a knock at the door of our home. Some of our neighbors asked if they could stay with us and sat down. "Please let us stay here," they said. "Why don't we all go to the shelter?" I asked. "No" they answered, "your home is safer because it is a place of prayer; please read to us from the Bible." Joy filled my heart. "You are the light of the world ... let your light shine before men that they may see your good deeds and praise your Father in heaven" (Matthew 5:14,16).
Lucien Accad from Lebanon. He was the Director of the Bible Society in Beirut. His house was severely damaged many times during the war in Lebanon.
Copyright [C] 1995 Open Doors International. Used by permission.
Click here to sign up for a free monthly newsletter from Open Doors about persecuted Christians.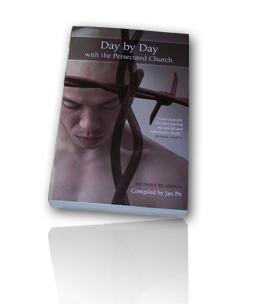 Day by Day with the Persecuted Church
compiled by Jan Pit with a forward by Brother Andrew (paperback, revised 2000)
Compelling wisdom from the pen of actual believers living amidst persecution, you'll be connected to the suffering, courage, and depth of life that exists in the harshest places in the world. Each of these 365 thought-provoking devotions will deepen your understanding of Christian persecution and provoke you to pray for our brothers and sisters with a new found depth.