from Day by Day with the Persecuted Church

"Lord, teach us to pray...." (Luke 11:1)
Remarkable Remarks - Prayer
Pastor Ha - Vietnam:
"My simple theology is:
If you have problems: pray
If you have many problems: pray more."
Unknown:
"God does not lay a burden on our back to break our neck, but to get us on our knees."
John Bunyan (from jail):
"Were it lawful, I could pray for greater trouble for greater comfort sake."
Phillip Brooks:
"I do not pray for a lighter load, but for a stronger back."
Unknown:
"If your problems are too small to pray for, they are also too small to worry about."
William Cowper:
"Satan trembles when he sees, the weakest saint upon his knees."
"Lord, teach us to pray...." (Luke 11:1)
Copyright [C] 1995 Open Doors International. Used by permission.
Click here to sign up for a free monthly newsletter from Open Doors about persecuted Christians.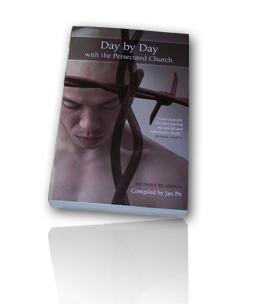 Day by Day with the Persecuted Church
compiled by Jan Pit with a forward by Brother Andrew (paperback, revised 2000)
Compelling wisdom from the pen of actual believers living amidst persecution, you'll be connected to the suffering, courage, and depth of life that exists in the harshest places in the world. Each of these 365 thought-provoking devotions will deepen your understanding of Christian persecution and provoke you to pray for our brothers and sisters with a new found depth.