from Day by Day with the Persecuted Church

My times are in your hands. (Psalm 31:15)
Naji Abi-Hashem
Have you ever wondered why God would not intervene in your most difficult situation only to find out afterwards that He did, but His timing was different from yours? How often we struggle to receive an immediate answer from the Lord only to thank Him later for not responding to our emergencies, according to our wishes.
This does not mean that God is removed from our particular situation, or does not care about our own despair. But he sees the needs differently, and therefore, plans special strategies to see us through. This does not necessarily mean resolving the critical situation immediately, but equipping us with confidence and power to endure it.
R. Niebuhr wrote once, "Living one day at a time, enjoying one moment at a time, and accepting hardship as a pathway to peace."
During the long years of turmoil and foreign wars on our beloved land, Lebanon, we diligently and earnestly longed for peace. We desperately wanted the severe troubles to end. A prominent Lebanese pastor later testified, "For years we prayed for peace and for the end of war in our country and God did not seem to answer us. So we stopped praying for the troubles to end and instead we started praying for courage, endurance, and strength. And God immediately answered!"
Beloved friend, although at times you may not fully understand, even when you cannot see God's hand, trust in His heart. For God is too wise to be mistaken, and He is too good to be unfair. He is definitely too omnipotent to be unable to be with you and relieve your despair.
Naji Abi-Hashem from Lebanon.
Copyright [C] 1995 Open Doors International. Used by permission.
Click here to sign up for a free monthly newsletter from Open Doors about persecuted Christians.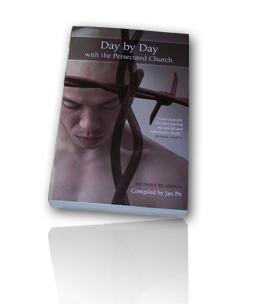 Day by Day with the Persecuted Church
compiled by Jan Pit with a forward by Brother Andrew (paperback, revised 2000)
Compelling wisdom from the pen of actual believers living amidst persecution, you'll be connected to the suffering, courage, and depth of life that exists in the harshest places in the world. Each of these 365 thought-provoking devotions will deepen your understanding of Christian persecution and provoke you to pray for our brothers and sisters with a new found depth.