from Day by Day with the Persecuted Church

Restore to me the joy of your salvation and grant me a willing spirit, to sustain me. (Psalm 51:12)
Naji Abi-Hashem
Every time we violate our values or faith, we suffer from inner tension and guilt feelings. This principle is true, regardless of our religious commitment or ideological orientation. It is a function of conscience that God has designed, as part of His image within us. Each time we intentionally commit a sin or consciously fall into a temptation, we endure serious consequences. Some element dies inside of us, as if sin has a destructive power to kill healthy spiritual cells in our organism. To recover from that impact is, at times, like recovering from a major surgical operation.
On the other hand, our conscience will stop bothering us if we repeatedly violate the same value or standard. Gradually, we lose the intensity of the guilt, not because our conscience has become crippled but because our norms have been modified, softened, and therefore, compromised.
Mercifully, God affirms us in that when failure occurs, restoration is needed and forgiveness is available. We are called to be a people of principle, to cultivate righteousness and to have clear moral and ethical values based on sound biblical standards. May the Lord grant us that virtue.
Naji Abi-Hashem from Lebanon.
Copyright [C] 1995 Open Doors International. Used by permission.
Click here to sign up for a free monthly newsletter from Open Doors about persecuted Christians.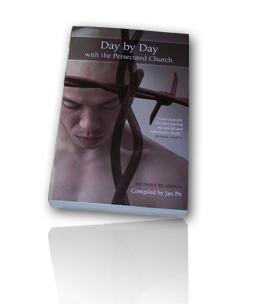 Day by Day with the Persecuted Church
compiled by Jan Pit with a forward by Brother Andrew (paperback, revised 2000)
Compelling wisdom from the pen of actual believers living amidst persecution, you'll be connected to the suffering, courage, and depth of life that exists in the harshest places in the world. Each of these 365 thought-provoking devotions will deepen your understanding of Christian persecution and provoke you to pray for our brothers and sisters with a new found depth.