from Day by Day with the Persecuted Church

Love your enemies and pray for those who persecute you. (Matthew 5:44)
Naji Abi-Hashem
I met Brother Jamil right after I committed my life to Christ in the mountain town of Bhamdoun. There, I saw him in action, inside the meeting place and on the street, witnessing, praying, distributing literature, and quoting Scriptures from his ever-present and well-used Bible. Some believers labeled him an "aggressive evangelist," for he constantly seized the moment to present Christ.
The years passed and I became a pastor amidst the unresolved political and military tensions. For the first nine months, I led the Wednesday night meetings by studying the Sermon on the Mount. Brother Jamil used to show up every week. We arrived at Matthew 5:44 and carefully examined our Lord's teaching here. Brother Jamil made his contribution as usual. After a few days, we all were shocked to hear about Brother Jamil's death. It was not a normal death or an accident. He was persecuted, tormented, and murdered by a militant Shiite group. He died as a martyr.
He was triumphant both in his life and death. He was a living example of boldly serving Christ regardless of the price. And finally, he was more evidence that martyrdom is still a vital part of church life today, as it has been through the ages.
I still hear Jamil echoing Stephen's words, "Lord do not hold this sin against them! Lord Jesus, receive my spirit." When they spoke death, hatred, and destruction, he spoke love, forgiveness, and peace. That is authentic Christianity under severe testing.
Naji Abi-Hashem from Lebanon.
Copyright [C] 1995 Open Doors International. Used by permission.
Click here to sign up for a free monthly newsletter from Open Doors about persecuted Christians.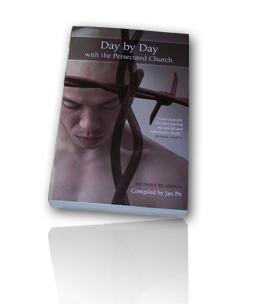 Day by Day with the Persecuted Church
compiled by Jan Pit with a forward by Brother Andrew (paperback, revised 2000)
Compelling wisdom from the pen of actual believers living amidst persecution, you'll be connected to the suffering, courage, and depth of life that exists in the harshest places in the world. Each of these 365 thought-provoking devotions will deepen your understanding of Christian persecution and provoke you to pray for our brothers and sisters with a new found depth.