from Day by Day with the Persecuted Church

Naji Abi-Hashem
How many times, while I was in the United States pursuing my doctorate, and when Beirut was under heavy shelling and bombing, I wished I could go home. I remembered the tragedies, fears, and endless agonies of my people. Oh, how many times I wished I could be with them, to go through the same suffering, bear the same pain, and experience the same horror. However, that triggered me to intercede intensely on their behalf and raise prayer support. In the States people would often ask, "Aren't you glad you are here instead of there?" My immediate reply always was, "No, I'd rather be with my people at this critical time." For I have tasted the trouble of wars.
City wars mean surviving on extremely scarce resources, staying in basements for weeks with no electricity, fresh water, heat, or telephone lines. It means seeing your house hit or your car burned, hearing that a neighbor, friend, or relative has been killed, and putting your life on the line each time you go out and try to buy some bread or vegetables, if any were available.
Many others like me, who love Lebanon, and are genuinely interested in its future and potential for a productive ministry in the whole Middle East, are earnestly praying for its healing and recovery, are closely watching the unfolding of events, and are fervently claiming the precious promises of old. Is it not yet a very little while until Lebanon shall be turned into a fruitful field? Will you please pray with us that this promise will soon be fulfilled?
Naji Abi-Hashem from Lebanon.
Copyright [C] 1995 Open Doors International. Used by permission.
Click here to sign up for a free monthly newsletter from Open Doors about persecuted Christians.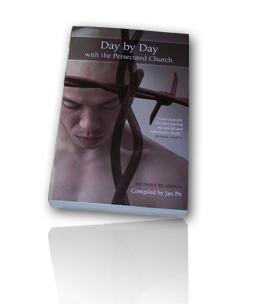 Day by Day with the Persecuted Church
compiled by Jan Pit with a forward by Brother Andrew (paperback, revised 2000)
Compelling wisdom from the pen of actual believers living amidst persecution, you'll be connected to the suffering, courage, and depth of life that exists in the harshest places in the world. Each of these 365 thought-provoking devotions will deepen your understanding of Christian persecution and provoke you to pray for our brothers and sisters with a new found depth.