from Day by Day with the Persecuted Church

And anyone who does not take his cross and follow me is not worthy of me. (Matthew 10:38)
The apostles left the Sanhedrin, rejoicing because they had been counted worthy of suffering disgrace for the Name. (Acts 5:41)
Open Doors Contact Person
"Take his cross" - it sounds ominous. This does not sound like something that goes with faith. Victory, blessing, peace - these are things which make you happy. But struggle, the cross, suffering, these have such a negative sound to them.
Yet Christians who have endured suffering, often consider it an honor to have been counted worthy to take part in Christ's suffering.
A twenty-one year old Chinese woman from Guangzhou told us openly about the many chances she had in China to be a witness for Christ. "Aren't you persecuted then?" she was asked. "Yes," she answered, "but that does not matter. It's the way of the cross."
We are not asked to seek persecution and suffering. We are called to take up our cross. Whoever has to carry such a cross, will be given sufficient strength to do just that.
"But rejoice" ... yes, it really is written there. "But rejoice that you participate in the sufferings of Christ, so that you may be overjoyed when his glory is revealed" (1 Peter 4:13).
Copyright [C] 1995 Open Doors International. Used by permission.
Click here to sign up for a free monthly newsletter from Open Doors about persecuted Christians.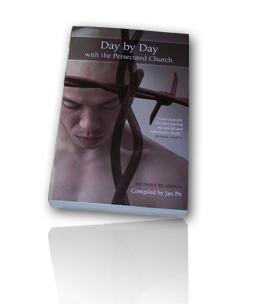 Day by Day with the Persecuted Church
compiled by Jan Pit with a forward by Brother Andrew (paperback, revised 2000)
Compelling wisdom from the pen of actual believers living amidst persecution, you'll be connected to the suffering, courage, and depth of life that exists in the harshest places in the world. Each of these 365 thought-provoking devotions will deepen your understanding of Christian persecution and provoke you to pray for our brothers and sisters with a new found depth.