from Day by Day with the Persecuted Church

For you are great and do marvelous deeds; you alone are God. (Psalm 86:10)
Andrés Noriega
Though we often felt out of touch with the Body of Christ elsewhere, we have seen and enjoyed God's hand of provision. He is in touch with His people worldwide and causes those who are free to help those who are persecuted.
The following incident explains this so beautifully. I had received an invitation to attend a Christian congress in another country. Due to the fact that Cuban authorities had always refused to give permission to go, we prayed very earnestly for government clearance. While making arrangements to go I had a long list of all the things I wanted to buy in the free world, that I could bring back to Cuba. The three most urgent items were Bibles, two tambourines for our worship group and four microphones for the church.
Then came the news - I was not allowed to go. What a disappointment and discouragement. But God was in control.
Three days later a young man came to my house. He came from the country where the Christian congress was taking place. He was on a business trip to Cuba and had only arrived a day ago.
"I have some gifts for you Pastor," he told me. He did not know me, and I did not know him so I was surprised. "A few days ago," the brother told me, "I heard about my business trip to Cuba so I quickly went to a shop to buy some things for the trip. Another customer in the shop overheard me talking about my forthcoming visit to Cuba. He came to me and said, 'I know a pastor in Cuba who has great needs in his church. Would you please visit him and give him some gifts?'
"You are that pastor sir ... and here are the gifts." I was overwhelmed. Many, many gifts and among them ... Bibles, tambourines and four microphones...
God knows our situation. He knows your problems too. He listens to our prayers and provides. Maybe in a different way than we expected, but in a wonderful way which gives glory to God. How great thou art."
Andrés Noriega, from Cuba, shares about his life with the Lord. Despite the battle, his meditations witness to victory and faith. He writes under a pseudonym.
Copyright [C] 1995 Open Doors International. Used by permission.
Click here to sign up for a free monthly newsletter from Open Doors about persecuted Christians.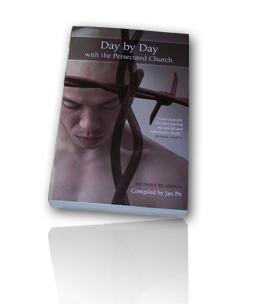 Day by Day with the Persecuted Church
compiled by Jan Pit with a forward by Brother Andrew (paperback, revised 2000)
Compelling wisdom from the pen of actual believers living amidst persecution, you'll be connected to the suffering, courage, and depth of life that exists in the harshest places in the world. Each of these 365 thought-provoking devotions will deepen your understanding of Christian persecution and provoke you to pray for our brothers and sisters with a new found depth.