from Day by Day with the Persecuted Church

By faith Noah, when warned about things not yet seen, in holy fear built an ark to save his family. By his faith he condemned the world and became heir of the righteousness that comes by faith. (Hebrews 11:7)
Enrique Palacio
True faith is demonstrated in deeds. In other words, faith must be manifested in the way we live, act and behave.
Noah gave evidence of this reality when he heard God's command and acted upon it. For many, many years Noah built in faith. No signs of rain or destruction were there. But he built and waited.
Christ compares the end times with the days of Noah, "As it was in the days of Noah, so it will be at the coming of the Son of Man. For in the days before the flood, people were eating and drinking, marrying and giving in marriage, up to the day Noah entered the ark; and they knew nothing about what would happen until the flood came and took them all away. That is how it will be at the coming of the Son of Man." (Matthew 24:37-39).
Noah lived in a time of grace and judgment. He lived in a time of tremendous apostasy. All around him was evil, sin and unbelief. Yet Noah had faith in God. And when judgment came he was safe.
"Do not let your hearts be troubled. Trust in God; trust also in me." (John 14:1)
"Watch, therefore, for you do not know on what day your Lord is coming."
Enrique Palacio, from Cuba, shares about his life with the Lord. Despite the battle, his meditations witness to victory and faith. He writes under a pseudonym.
Copyright [C] 1995 Open Doors International. Used by permission.
Click here to sign up for a free monthly newsletter from Open Doors about persecuted Christians.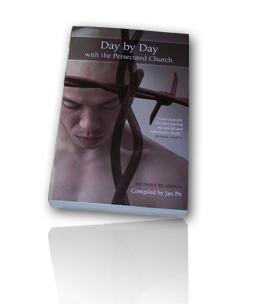 Day by Day with the Persecuted Church
compiled by Jan Pit with a forward by Brother Andrew (paperback, revised 2000)
Compelling wisdom from the pen of actual believers living amidst persecution, you'll be connected to the suffering, courage, and depth of life that exists in the harshest places in the world. Each of these 365 thought-provoking devotions will deepen your understanding of Christian persecution and provoke you to pray for our brothers and sisters with a new found depth.