from Day by Day with the Persecuted Church

Now faith is being sure of what we hope for and certain of what we do not see. This is what the ancients were commended for. By faith we understand that the universe was formed at God's command, so that what is seen was not made out of what was visible. By faith Abel offered God a better sacrifice than Cain did. By faith he was commended as a righteous man, when God spoke well of his offerings. And by faith he still speaks, even though he is dead. By faith Enoch was taken from this life, so that he did not experience death; he could not be found, because God had taken him away. For before he was taken, he was commended as one who pleased God. And without faith it is impossible to please God, because anyone who comes to him must believe that he exists and that he rewards those who earnestly seek him. By faith Noah, when warned about things not yet seen, in holy fear built an ark to save his family. By his faith he condemned the world and became heir of the righteousness that comes by faith.
Enrique Palacio
The first man of faith mentioned in Hebrews 11 is Abel. The Bible declares that it was Abel's faith which allowed him to get close to God.
Hebrews 11:5 talks about Enoch, who by faith was translated because he had walked with God.
And Hebrews 11:7 talks about Noah, who by faith worked with God and for God.
Worship by faith is the most elevated function of the human soul. It is only when we worship in spirit and truth (like Abel) that we are able to walk with God (like Enoch) and work with God (like Noah).
Therefore ... "let us draw near to God with a sincere heart in full assurance of faith, having our hearts sprinkled to cleanse us from a guilty conscience and having our bodies washed with pure water." (Hebrews 10:22).
Enrique Palacio, from Cuba, shares about his life with the Lord. Despite the battle, his meditations witness to victory and faith. He writes under a pseudonym.
Copyright [C] 1995 Open Doors International. Used by permission.
Click here to sign up for a free monthly newsletter from Open Doors about persecuted Christians.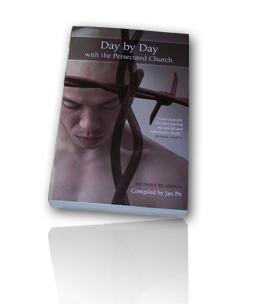 Day by Day with the Persecuted Church
compiled by Jan Pit with a forward by Brother Andrew (paperback, revised 2000)
Compelling wisdom from the pen of actual believers living amidst persecution, you'll be connected to the suffering, courage, and depth of life that exists in the harshest places in the world. Each of these 365 thought-provoking devotions will deepen your understanding of Christian persecution and provoke you to pray for our brothers and sisters with a new found depth.