from Day by Day with the Persecuted Church

And without faith it is impossible to please God, because anyone who comes to him must believe that he exists and that he rewards those who earnestly seek him. (Hebrews 11:6)
Enrique Palacio
I was born in Cuba in 1945 and I heard the good news of the Gospel in the living room of my grandmother's house. When I was only 15 years old I dedicated myself to Christ. It was at that time that tribulation and hardship came to my life.
When I became a minister of the Gospel these tribulations increased, but during my 13 years of ministry, it was my faith in Jesus that sustained me. Whenever tribulations, trials, temptations and discouragements came to my life I was reminded of Hebrews 11.
When I had to leave Cuba I thought that all the tribulations would be something of the past. But I soon discovered that the same spiritual enemy was very much present in the country of freedom and prosperity.
We cannot escape from the wiles of the devil.
But we can draw near to God ... in faith.
"This is the victory that has overcome the world, even our faith." (1 John 5:4b)
Enrique Palacio, from Cuba, shares about his life with the Lord. Despite the battle, his meditations witness to victory and faith. He writes under a pseudonym.
Copyright [C] 1995 Open Doors International. Used by permission.
Click here to sign up for a free monthly newsletter from Open Doors about persecuted Christians.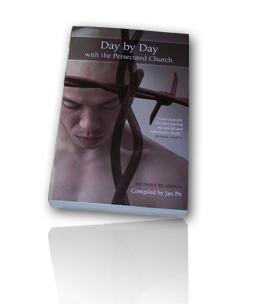 Day by Day with the Persecuted Church
compiled by Jan Pit with a forward by Brother Andrew (paperback, revised 2000)
Compelling wisdom from the pen of actual believers living amidst persecution, you'll be connected to the suffering, courage, and depth of life that exists in the harshest places in the world. Each of these 365 thought-provoking devotions will deepen your understanding of Christian persecution and provoke you to pray for our brothers and sisters with a new found depth.