from Day by Day with the Persecuted Church

Christians suffering for their faith in Christ are encouraged and strengthened by this Psalm of David. He speaks about what he himself had experienced - struggle, suffering, loneliness and questions. But also victory, healing, encouragement and answered prayer.
"Awake, and rise to my defense! Contend for me, my God and Lord" (Psalm 35:23).
David
Then my soul will rejoice in the Lord and delight in his salvation.
My whole being will exclaim, "Who is like you, O Lord? You rescue the poor from those too strong for them, the poor and needy from those who rob them."
Ruthless witnesses come forward; they question me on things I know nothing about.
They repay me evil for good and leave my soul forlorn.
But when I stumbled, they gathered in glee; attackers gathered against me when I was unaware. They slandered me without ceasing.
O Lord, you have seen this; be not silent. Do not be far from me, O Lord.
Awake, and rise to my defense! Contend for me, my God and Lord.
(Psalm 35:9-12, 15, 22-23)
Copyright [C] 1995 Open Doors International. Used by permission.
Click here to sign up for a free monthly newsletter from Open Doors about persecuted Christians.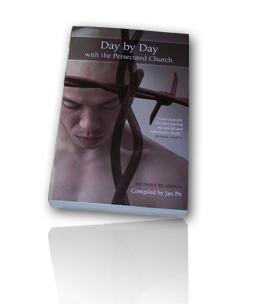 Day by Day with the Persecuted Church
compiled by Jan Pit with a forward by Brother Andrew (paperback, revised 2000)
Compelling wisdom from the pen of actual believers living amidst persecution, you'll be connected to the suffering, courage, and depth of life that exists in the harshest places in the world. Each of these 365 thought-provoking devotions will deepen your understanding of Christian persecution and provoke you to pray for our brothers and sisters with a new found depth.