from Day by Day with the Persecuted Church

Moses answered the people, "Do not be afraid. Stand firm and you will see the deliverance the Lord will bring you today. The Egyptians you see today you will never see again. The Lord will fight for you; you need only to be still." Then the Lord said to Moses, "Why are you crying out to me? Tell the Israelites to move on. Raise your staff and stretch out your hand over the sea to divide the water so that the Israelites can go through the sea on dry ground."
Antonio Garrido
The Israelites, with Moses at the front, were involved in a very delicate situation. In front of them was the Red Sea. To their sides the desert and behind them the Egyptian army to capture them. A very frightening scene. A street with a dead end.
God's people often find themselves in similar situations. Enemies all around us with a seemingly dead end awaiting. Wherever we look we see danger, anguish and despair. But God permits these situations to show us that there is never reason for despair. Certain spiritual lessons can only be learned in streets with a dead end, where the way to God is still open.
When things got really bad Moses obeyed the voice of God and struck the water with his rod. And the dead end street changed into a thoroughfare.
It always will... if we obey and trust our Lord.
Antonio Garrido, from Cuba, shares about his life with the Lord. Despite the battle, his meditations witness to victory and faith. He writes under a pseudonym.
Copyright [C] 1995 Open Doors International. Used by permission.
Click here to sign up for a free monthly newsletter from Open Doors about persecuted Christians.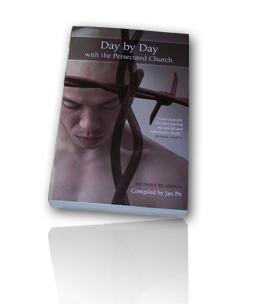 Day by Day with the Persecuted Church
compiled by Jan Pit with a forward by Brother Andrew (paperback, revised 2000)
Compelling wisdom from the pen of actual believers living amidst persecution, you'll be connected to the suffering, courage, and depth of life that exists in the harshest places in the world. Each of these 365 thought-provoking devotions will deepen your understanding of Christian persecution and provoke you to pray for our brothers and sisters with a new found depth.