from Day by Day with the Persecuted Church

Then the Lord said to Satan, Have you considered my servant Job? There is no one on earth like him; he is blameless and upright, a man who fears God and who shuns evil.
(Job 1:8)
Job
Satan had not expected that God would talk to him about Job. Satan had hoped that he could bring a report about all the misery he had seen during his roaming through the earth. He had his story ready, about all the hypocrites, thieves and adulterers. And about all the Christians who hate each other and who are not to be trusted. Those who sing righteous songs but do bad things. That's what Satan would like to talk about. That is what he looked forward to.
But the Lord only wanted to talk about one thing - this Job, who was so trustworthy.
Satan always wants to talk about negative things. He encourages God's children to do the same - and with much success. God points us to the positive. Although he condemns sin and is moved by the needs of men and the world, he offers forgiveness and expectations for people without hope for the future.
He is our God and Savior. We should walk in His steps. And pray:
"Search me, O God, and know my heart;
test me and know my anxious thoughts.
See if there is any offensive way in me,
and lead me in the way everlasting."
(Psalm 139:23-24)
Copyright [C] 1995 Open Doors International. Used by permission.
Click here to sign up for a free monthly newsletter from Open Doors about persecuted Christians.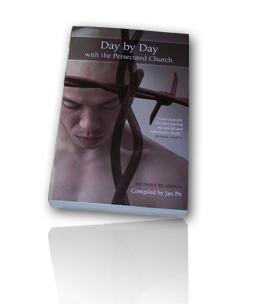 Day by Day with the Persecuted Church
compiled by Jan Pit with a forward by Brother Andrew (paperback, revised 2000)
Compelling wisdom from the pen of actual believers living amidst persecution, you'll be connected to the suffering, courage, and depth of life that exists in the harshest places in the world. Each of these 365 thought-provoking devotions will deepen your understanding of Christian persecution and provoke you to pray for our brothers and sisters with a new found depth.