from Day by Day with the Persecuted Church

...be strong in the Lord ... put on the full armor of God so that you can take your stand against the devil's schemes. (Ephesians 6:10-11)
The Bible is an honest book. It not only speaks of Noah's faith in God, but also reveals his weaknesses. Two verses from Scripture show the difference:
"Noah built an altar to the Lord..." (Genesis 8:20).
"Noah ... proceeded to plant a vineyard" (Genesis 9:20).
In the first instance he was in the presence of God whereas in the vineyard he was tempted by the devil. Victory and defeat are at either extreme, but never far apart.
"…your enemy the devil prowls around like a roaring lion looking for someone to devour" (1 Peter 5:8).
The hour of victory can easily become the hour of defeat. We will never be out of reach of temptation. We should always have the shield of faith in our hands as part of our spiritual armor. To "walk with God" does not come automatically. It requires a daily exercise of entering into His presence, listening to His instructions and following them without reservation.
Those who do so will have the experience of never walking alone.
Copyright [C] 1995 Open Doors International. Used by permission.
Click here to sign up for a free monthly newsletter from Open Doors about persecuted Christians.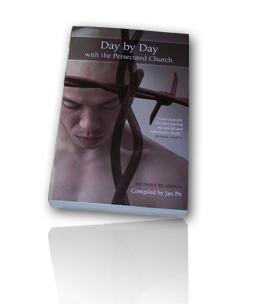 Day by Day with the Persecuted Church
compiled by Jan Pit with a forward by Brother Andrew (paperback, revised 2000)
Compelling wisdom from the pen of actual believers living amidst persecution, you'll be connected to the suffering, courage, and depth of life that exists in the harshest places in the world. Each of these 365 thought-provoking devotions will deepen your understanding of Christian persecution and provoke you to pray for our brothers and sisters with a new found depth.