from Day by Day with the Persecuted Church

In this second part, David does not talk about the Lord but to the Lord.
People feel sorry for David. He is in great need. His faith in the almighty God is his comfort and hope.
David
Hear my voice when I call, O Lord; be merciful to me and answer me.
My heart says of you, 'seek his face!" Your face, Lord, I will seek.
Do not hide your face from me, do not turn your servant away in anger; you have been my helper. Do not reject me or forsake me, O God my Savior.
Though my father and mother forsake me, the Lord will receive me.
Teach me your way, O Lord; lead me in a straight path because of my oppressors.
Do not turn me over to the desire of my foes, for false witnesses rise up against me, breathing out violence.
I am still confident of this: I will see the goodness of the Lord in the land of the living.
Wait for the Lord; be strong and take heart and wait for the Lord. (Psalm 27:7-14)
Copyright [C] 1995 Open Doors International. Used by permission.
Click here to sign up for a free monthly newsletter from Open Doors about persecuted Christians.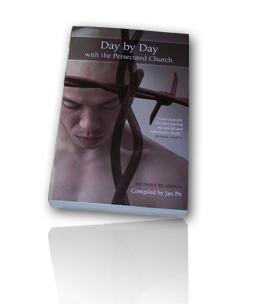 Day by Day with the Persecuted Church
compiled by Jan Pit with a forward by Brother Andrew (paperback, revised 2000)
Compelling wisdom from the pen of actual believers living amidst persecution, you'll be connected to the suffering, courage, and depth of life that exists in the harshest places in the world. Each of these 365 thought-provoking devotions will deepen your understanding of Christian persecution and provoke you to pray for our brothers and sisters with a new found depth.