from Day by Day with the Persecuted Church

We love because he first loved us. And he has given us this command: Whoever loves God must also love his brother. (1 John 1:19,21)
Ghassan Khalaf
Christianity is distinguished by the word "love." This is the only way to describe the Christian faith in just one word. We think always of God's love for us, and our love for others, and forget a very essential element which is that we can love God too. Love is a mutual relationship between Him and us. He loves us and we love Him.
If we are to understand fully the deep meaning of this relationship, we need to compare love with mercy. Here the full meaning of this love relationship with God will appear. Mercy contains the meaning of "a higher to lower" relationship and not vice-versa.
God can say, "I will have mercy on you, people;" but we cannot say back, "We will have mercy on you Lord!" But God can say, "I love you my people," and we can say to Him, "We love you, Lord." Mercy language is between a lord and his slaves. Love language is between a father and his children.
There is nothing in the world like this loving mutual relationship between us and God through His Son Jesus Christ.
Writer of the Month: Ghassan Khalaf from Lebanon. Amidst bombings and destruction, Brother Khalaf faithfully visited victims of war to encourage them in their faith.
Copyright [C] 1995 Open Doors International. Used by permission.
Click here to sign up for a free monthly newsletter from Open Doors about persecuted Christians.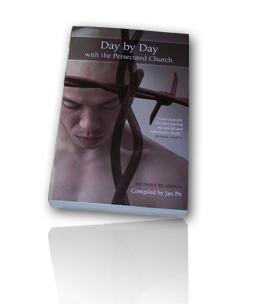 Day by Day with the Persecuted Church
compiled by Jan Pit with a forward by Brother Andrew (paperback, revised 2000)
Compelling wisdom from the pen of actual believers living amidst persecution, you'll be connected to the suffering, courage, and depth of life that exists in the harshest places in the world. Each of these 365 thought-provoking devotions will deepen your understanding of Christian persecution and provoke you to pray for our brothers and sisters with a new found depth.