from Day by Day with the Persecuted Church

Blessed is the man who perseveres under trial, because when he has stood the test, he will receive the crown of life that God has promised to those who love him. (James 1:12)
Ghassan Khalaf
Frequently after wars, there emerges a class of people called "the war rich'; those who seize the opportunity and improve their own conditions. This is exactly what happened after the war in Lebanon.
But what about God's children? Do we accept the hard times as opportunities to prove the genuineness of our faith which is more precious than gold, so we might receive the crown of life?
Believers in Lebanon benefited much from passing through the fire of war. They became "war rich" on the spiritual plane. Those who love God collect spiritual fortunes and plenty of practical experiences. In times of distress the cyclone shakes us so that our dry leaves and rotten fuit fall down. At the same time, trials increase our stability by extending our roots into the depths. After the storm you see believers still holding their hands high, and roses in their hands.
Because, if you see a person who has passed through the valley of terror and reached the land of peace, with a flower plucked from that valley in his hand, then you will know that God was with him and that his soul has kept the freshness of faith.
Writer of the Month: Ghassan Khalaf from Lebanon. Amidst bombings and destruction, Brother Khalaf faithfully visited victims of war to encourage them in their faith.
Copyright [C] 1995 Open Doors International. Used by permission.
Click here to sign up for a free monthly newsletter from Open Doors about persecuted Christians.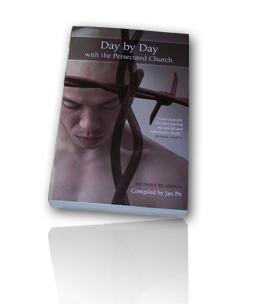 Day by Day with the Persecuted Church
compiled by Jan Pit with a forward by Brother Andrew (paperback, revised 2000)
Compelling wisdom from the pen of actual believers living amidst persecution, you'll be connected to the suffering, courage, and depth of life that exists in the harshest places in the world. Each of these 365 thought-provoking devotions will deepen your understanding of Christian persecution and provoke you to pray for our brothers and sisters with a new found depth.