from Day by Day with the Persecuted Church

You sympathized with those in prison and joyfully accepted the confiscation of your property, because you knew that you yourselves had better and lasting possessions. (Hebrews 10:34)
Ghassan Khalaf
Complete surrender is the only way to overcome anxiety. During the black days of Beirut the sky was continuously raining mortar shells and rockets. No place was spared from their shrapnel. Everyone was in danger of having his house burned, or losing his money, his possessions, library, car, or life.
Anxiety was about to rob me of my peace in Christ. Confusion hovered over me for days. In a period of meditation I put all I had before the Lord and asked His victory over the feelings of anxiety, and about losing material possessions. I prayed, "Oh Lord! I am resolved, by your grace, to accept with all contentment, with total surrender and joy, whatever physical or material harm may come to me."
I dreamed one night that my car was stolen. Feelings of resentment attacked me. A struggle began in my soul between complaint and contentment. After a cruel struggle I accepted the loss with pleasure and complete surrender. Then I woke up.
I was happy it was only a dream. But a thought captured me: It is beautiful to be victorious in a dream, but it is more glorious to be victorious over anxiety in real life while awake.
Writer of the Month: Ghassan Khalaf from Lebanon. Amidst bombings and destruction, Brother Khalaf faithfully visited victims of war to encourage them in their faith.
Copyright [C] 1995 Open Doors International. Used by permission.
Click here to sign up for a free monthly newsletter from Open Doors about persecuted Christians.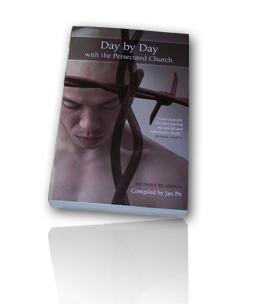 Day by Day with the Persecuted Church
compiled by Jan Pit with a forward by Brother Andrew (paperback, revised 2000)
Compelling wisdom from the pen of actual believers living amidst persecution, you'll be connected to the suffering, courage, and depth of life that exists in the harshest places in the world. Each of these 365 thought-provoking devotions will deepen your understanding of Christian persecution and provoke you to pray for our brothers and sisters with a new found depth.