from Day by Day with the Persecuted Church

Let us fix our eyes on Jesus, the author and perfecter of our faith, who for the joy set before him endured the cross, scorning its shame, and sat down at the right hand of the throne of God.
Ghassan Khalaf
When we suffer or see people suffering, a cry from the depth of our being comes up, "Where is God?" Especially when suffering lasts for years and years, then our morale deteriorates and our situation becomes frustrating. We begin to question even the essential attributes of God: His love, wisdom, and faithfulness. And still worse comes when we begin to question the reality of God's existence. I am sure many people, even Christians, are shaken by these doubts when their prayers have gone unanswered for years.
How can our faith be sustained in such circumstances? Our faith will be as deep as the cross is in our belief. People tend to look to heaven in the midst of their suffering and say, where are you God? They feel that God is on His Throne up there in heaven, far away and uncaring.
Those who have the cross as the center of their theology will not look up to a distant heaven as if to get help for their suffering, but will look to the crucified Jesus down here on Golgotha, and from His suffering, their hearts find healing in the midst of their suffering.
Writer of the Month: Ghassan Khalaf from Lebanon. Amidst bombings and destruction, Brother Khalaf faithfully visited victims of war to encourage them in their faith.
Copyright [C] 1995 Open Doors International. Used by permission.
Click here to sign up for a free monthly newsletter from Open Doors about persecuted Christians.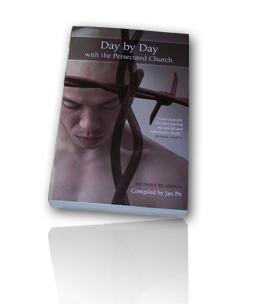 Day by Day with the Persecuted Church
compiled by Jan Pit with a forward by Brother Andrew (paperback, revised 2000)
Compelling wisdom from the pen of actual believers living amidst persecution, you'll be connected to the suffering, courage, and depth of life that exists in the harshest places in the world. Each of these 365 thought-provoking devotions will deepen your understanding of Christian persecution and provoke you to pray for our brothers and sisters with a new found depth.