from Day by Day with the Persecuted Church

Jesus was in the stern, sleeping on a cushion. The disciples woke him and said to him, "Teacher don't you care if we drown?" (Mark 4:38)
Ghassan Khalaf
Often in life we go through times of troubled circumstances; like the disciples of Jesus at the Sea of Galilee. Our distress becomes very severe to the degree that we do not see Jesus who is very near to us; like the disciples in the boat who were so overwhelmed by the stormy sea, that they couldn't see the peaceful face of the Savior who was asleep on the cushion in the stern of the boat.
We feel that God does not care; that He has forsaken us. We begin to make the loudest noise we can to attract the attention of Heaven. We even wish to disturb God and make Him see our need. Just as the disciples, who lost their patience and disturbed Jesus while He was resting, "Teacher, do you not care that we are perishing?" Jesus woke up and rebuked the wind and said to the sea, "Be still." But He also rebuked His disciples, "Why are you afraid? Have you still no faith?"
So let us in our turmoil be quiet.
Let us have faith and not disturb Jesus. He is with us. He is closer to us than we think He is.
Writer of the Month: Ghassan Khalaf from Lebanon. Amidst bombings and destruction, Brother Khalaf faithfully visited victims of war to encourage them in their faith.
Copyright [C] 1995 Open Doors International. Used by permission.
Click here to sign up for a free monthly newsletter from Open Doors about persecuted Christians.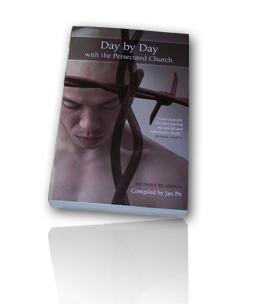 Day by Day with the Persecuted Church
compiled by Jan Pit with a forward by Brother Andrew (paperback, revised 2000)
Compelling wisdom from the pen of actual believers living amidst persecution, you'll be connected to the suffering, courage, and depth of life that exists in the harshest places in the world. Each of these 365 thought-provoking devotions will deepen your understanding of Christian persecution and provoke you to pray for our brothers and sisters with a new found depth.