from Day by Day with the Persecuted Church

Now the Ephraimites asked Gideon, "Why have you treated us like this? Why didn't you call us when you went to fight Midian?" And they criticized him sharply. (Judges 8:1)
Then make my joy complete by being like-minded, having the same love, being one in spirit and purpose. (Philippians 2:2)
Gideon
It is sad but true that many times persecution comes from within, from fellow-believers. That hurts the most.
After the great victory, Gideon is taken up roundly. Not by his enemies but by his own people. "Why didn't you call us when you went to fight Midian?"
It is easy to say this when the battle is over. When Gideon needed them, his own people were nowhere to be seen. But now that the war is won, they surface, full of criticism.
It's an old trick of the devil - then and now. Satan delights in us fighting each other instead of him. He is a master at causing division and Christians are very willing subjects - at least in this area.
Be aware of this today. Don't listen to the devil and don't allow him to misuse you. Put on the whole armor of God. Then you will not only be able to withstand the attacks, but also be victorious.
Copyright [C] 1995 Open Doors International. Used by permission.
Click here to sign up for a free monthly newsletter from Open Doors about persecuted Christians.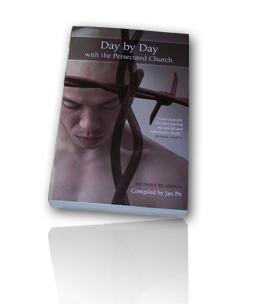 Day by Day with the Persecuted Church
compiled by Jan Pit with a forward by Brother Andrew (paperback, revised 2000)
Compelling wisdom from the pen of actual believers living amidst persecution, you'll be connected to the suffering, courage, and depth of life that exists in the harshest places in the world. Each of these 365 thought-provoking devotions will deepen your understanding of Christian persecution and provoke you to pray for our brothers and sisters with a new found depth.