from Day by Day with the Persecuted Church

...Tear down your father's altar to Baal and cut down the Asherah pole beside it. Then build a proper kind of altar to the Lord your God on the top of this crag. Using the wood of the Asherah pole that you cut down, offer the second bull as a burnt offering. (Judges 6:25-26)
Servanthood starts at home. Before Gideon could lead the people back to their God, he had to get rid of the idols in his own home.

Serving God does not start on the mission field but at home, in your own church and family. That is often the hardest place to serve. It seems much easier to take the Gospel to far away peoples than to share Christ with your family and friends. But those who are ashamed of Christ at home will never be able to serve Him abroad.
Conversion starts with, "turning your back on..." Coming to Christ means turning your back on your idols, whatever they may be. With this command Gideon's mission started. "Tear down your father's altar." That could cause a very negative reaction from his father. But Gideon was obedient to God. It is true that Gideon was afraid to be so radical. He did it at night, but he did it ... "Then the Spirit of the Lord came upon Gideon" (Judges 6:34).

It will always be that way. Is there a Baal idol in your life? Whatever it may be, tear it down, get rid of it. Then God will fill you with a new spirit, the Holy Spirit.
Copyright [C] 1995 Open Doors International. Used by permission.
Click here to sign up for a free monthly newsletter from Open Doors about persecuted Christians.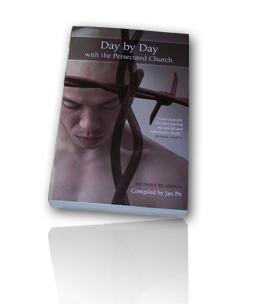 Day by Day with the Persecuted Church
compiled by Jan Pit with a forward by Brother Andrew (paperback, revised 2000)
Compelling wisdom from the pen of actual believers living amidst persecution, you'll be connected to the suffering, courage, and depth of life that exists in the harshest places in the world. Each of these 365 thought-provoking devotions will deepen your understanding of Christian persecution and provoke you to pray for our brothers and sisters with a new found depth.