from Day by Day with the Persecuted Church

Do not be surprised at the painful trial you are suffering, as though something strange were happening to you.
(1 Peter 4:12)
Nicolae Gheorghita
Sometimes God uses atheists to prove that the Bible is true. One day the secret police came to my house and confiscated many Christian books. I was summoned to appear for investigation the following day. A military prosecutor and four secret police officers questioned me for 10 hours, they then asked me if there was anything else for which I would like to confess, so I said, "Sir, this investigation does not take me by surprise because I knew this would happen. The Lord Jesus Christ told His followers that they would be arrested and suffer if they wanted to follow Him. If I would not be a disciple, would you have arrested me?" They looked at me and said, "No." "So the Bible is true," I continued. "This investigation confirms to me the biblical truth, and I am willing to face the consequences; I am willing to pay the price. Your job is to set the price and mine is to pay it with gladness because I love my God - and He will strengthen me to bear this burden. But I also want you to know that He loves you too." They looked at me, astonished and bewildered. They apologized to me and told me I was free to go home. "We were only doing our job," they said.
Let us never be ashamed of the Gospel. It is the power of God for salvation.
Copyright [C] 1995 Open Doors International. Used by permission.
Click here to sign up for a free monthly newsletter from Open Doors about persecuted Christians.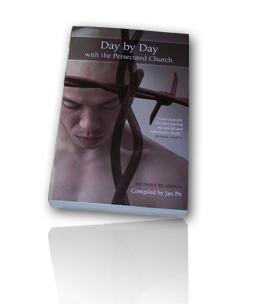 Day by Day with the Persecuted Church
compiled by Jan Pit with a forward by Brother Andrew (paperback, revised 2000)
Compelling wisdom from the pen of actual believers living amidst persecution, you'll be connected to the suffering, courage, and depth of life that exists in the harshest places in the world. Each of these 365 thought-provoking devotions will deepen your understanding of Christian persecution and provoke you to pray for our brothers and sisters with a new found depth.