from Day by Day with the Persecuted Church

We also rejoice in our sufferings, because we know that suffering produces perseverance, perseverance character and character hope, and hope does not disappoint us. (Romans 5:3-5)
Andrés Noriega
Many of us believe that our faith will grow best in favorable conditions, without any resistance, without any hardships or without being put to the test. But it is not like that. Fellow Christians in my country have often said that they would be better believers, more devoted and more faithful if they could live in a country where there is freedom of religion. They make a big mistake. Our thinking is wrong when we believe that our faith would grow if the circumstances were easier. Faith, like a muscle, grows as it is exercised. The inactivity, the calm, the lack of struggle can be more dangerous to our faith than the presence of persecution. It awakens in us the sense and reality of who we really are; it helps us, or should I say it forces us to depend on God.
A church without any struggle, hardship or persecution can easily fall asleep, become inactive and then lose the victory, because in order to gain a victory you need a battle.
True faith does not need favorable conditions of peace and prosperity. True faith needs favorable (yes favorable) conditions of persecution and trials. That is Paul's message in Romans 5 that is also his experience. And by the grace of God mine too. Therefore, rejoice that you participate in the sufferings of Christ (1 Peter 4:13).
Andrés Noriega, from Cuba, shares about his life with the Lord. Despite the battle, his meditations witness to victory and faith. He writes under a pseudonym.
Copyright [C] 1995 Open Doors International. Used by permission.
Click here to sign up for a free monthly newsletter from Open Doors about persecuted Christians.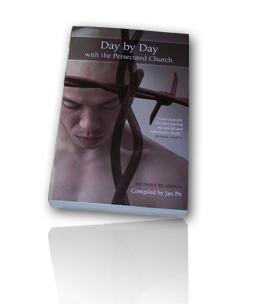 Day by Day with the Persecuted Church
compiled by Jan Pit with a forward by Brother Andrew (paperback, revised 2000)
Compelling wisdom from the pen of actual believers living amidst persecution, you'll be connected to the suffering, courage, and depth of life that exists in the harshest places in the world. Each of these 365 thought-provoking devotions will deepen your understanding of Christian persecution and provoke you to pray for our brothers and sisters with a new found depth.