from Day by Day with the Persecuted Church

When the prophet Nathan comes to David to confront him with his sin, David collapses. He realizes his sin, confesses his guilt and repents deeply.
How will God react to this sin? And to such a prayer?
David hopes for, and trusts, in God's grace. 'The sacrifices of God are a broken spirit; a broken and contrite heart, O God, you will not despise' (Psalm 51:17).
David
Have mercy on me, O God, according to your unfailing love; according to your great compassion blot out my transgressions.
Wash away all my iniquity and cleanse me from my sin.
For I know my transgressions, and my sin is always before me.
Hide your face from my sins and blot out all my iniquity.
Create in me a pure heart, O God, and renew a steadfast spirit within me.
Do not cast me from your presence or take your Holy Spirit from me.
Restore to me the joy of your salvation and grant me a willing spirit, to sustain me.
Then I will teach transgressors your ways, and sinners will turn back to you.
(Psalm 51:1-3,9-13)
Copyright [C] 1995 Open Doors International. Used by permission.
Copyright [C] 1995 Open Doors International. Used by permission.
Click here to sign up for a free monthly newsletter from Open Doors about persecuted Christians.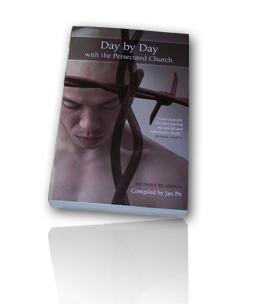 Day by Day with the Persecuted Church
compiled by Jan Pit with a forward by Brother Andrew (paperback, revised 2000)
Compelling wisdom from the pen of actual believers living amidst persecution, you'll be connected to the suffering, courage, and depth of life that exists in the harshest places in the world. Each of these 365 thought-provoking devotions will deepen your understanding of Christian persecution and provoke you to pray for our brothers and sisters with a new found depth.