from Day by Day with the Persecuted Church

If we are thrown into the blazing furnace, the God we serve is able to save us from it, and he will rescue us from your hand, O king. But even if he does not, we want you to know, O king that we will not serve your gods or worship the image of gold you have set up.
Daniel
In this chapter Satan follows another tactic to draw the Jews away from God. A clever tactic which he had already applied frequently with success - that of compromise.
What kind of compromise?
To believe in God but also to worship other gods. In the morning pray to God and in the afternoon kneel before idols. By allowing such a compromise you can maintain your social and financial standing. That is what the majority of Jews thought anyway.
Only three refused.
They knew that any form of compromise was nothing less than a denial of their faith in the one, true God. The other Jews concluded that one must give and take in life, that it would be foolish and too spiritual to risk a good career and position. In addition, through compromise, much could be attained. Their point of view was that you must know how to separate work from religion.
For the three friends of Daniel every form of compromise meant giving in to Satan himself. Therefore they refused, although they knew that by doing so they risked death in the fiery furnace. They would rather die for God, than live with the devil.
The tactic of compromise is always wielded by Satan, in the Suffering Church as well as in our prosperous society.
Will you kneel or stand?
'Therefore put on the full armor of God, so that when the day of evil comes, you may be able to stand your ground, and after you have done everything, to stand' (Ephesians 6:13).
Copyright [C] 1995 Open Doors International. Used by permission.
Click here to sign up for a free monthly newsletter from Open Doors about persecuted Christians.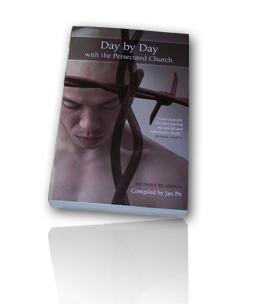 Day by Day with the Persecuted Church
compiled by Jan Pit with a forward by Brother Andrew (paperback, revised 2000)
Compelling wisdom from the pen of actual believers living amidst persecution, you'll be connected to the suffering, courage, and depth of life that exists in the harshest places in the world. Each of these 365 thought-provoking devotions will deepen your understanding of Christian persecution and provoke you to pray for our brothers and sisters with a new found depth.