from Day by Day with the Persecuted Church

However, I consider my life worth nothing to me, if only I may finish the race and complete the task the Lord Jesus has given me - the task of testifying the gospel of God's grace.
(Acts 20:24)
Open Doors Contact Person
Somewhere in the Transylvanian mountains, in the little village of Livada, lived one of the great spiritual leaders of Romania, Traian Dors. He has spent more than seventeen years in prison because of his evangelistic activities. The last time he was in prison he was given so little food and water that he expected to die.
So did the Communist authorities. Expecting his imminent death, Dors was sent home to die. To make absolutely sure that he would stop all his Christian activities, he was also sentenced to "house arrest". "But I need to see a doctor" he complained. His request was granted. "You can see a doctor once a week."
"So I chose a doctor at the other side of my country" he told us, with a twinkle in his eye. "Even though I was very weak, I could still be taken to that doctor, enabling me to visit the brethren along the way."
"Shouldn't you stop? You're an old man now, isn't there anyone else who can do that work?" The simple old man just shrugged his shoulders. "We are the grain of wheat that must fall into the ground and die. Only then will it produce a harvest. We must learn to die so that the Body may live."
We may not have reached that point of commitment yet. But we can start by a willingness to live for Christ and for His Body.
"For none of us lives to himself alone and none of us dies to himself alone. If we live, we live to the Lord; and if we die, we die to the Lord. So, whether we live or die, we belong to the Lord" (Romans 14:7,8).
Ferenc Visky is from Romania. He and his wife write in a moving way about their life with the Lord despite heavy persecution.
Copyright [C] 1995 Open Doors International. Used by permission.
Click here to sign up for a free monthly newsletter from Open Doors about persecuted Christians.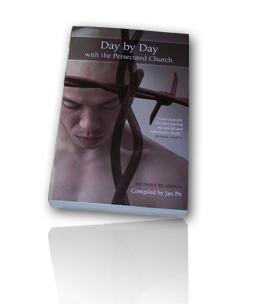 Day by Day with the Persecuted Church
compiled by Jan Pit with a forward by Brother Andrew (paperback, revised 2000)
Compelling wisdom from the pen of actual believers living amidst persecution, you'll be connected to the suffering, courage, and depth of life that exists in the harshest places in the world. Each of these 365 thought-provoking devotions will deepen your understanding of Christian persecution and provoke you to pray for our brothers and sisters with a new found depth.