from Day by Day with the Persecuted Church

Therefore the prudent man keeps quiet in such times, for the times are evil. (Amos 5:13)
Ferenc Visky
Keeping silent to conceal something is quite different from keeping silent to listen to God. When we conceal something we do not hear God's voice. "Hear, O Israel, the Lord our God, the Lord is one."
The well-known "sema" is attached to the doorpost of every Israelite. It is also on a small scroll on his wrist and on his forehead. God shaped and preserved His people by this "hear, Israel". But it is also possible not to hear correctly.
We had been in prison for a few weeks and there were eight of us in a cell that was meant for only two. We had all been convicted for the testimony of Jesus Christ. The evenings were harder than the days, because then our thoughts were with our loved ones, whom we had been forced to leave behind.
From the corridors alongside the cells, the sound of dull blows and an occasional restrained cry came to our ears. Someone was being beaten again. Our heavy, drunken guard sometimes picked out one of us and beat his victim up in the corridor. It could be our turn at any moment. We sat together like a flock startled by wolves and the beating of our hearts was audible...
The tempter wanted to make things even more difficult for us. One of us softly remarked, "We wouldn't be here if we had kept silent, for it is written that the prudent man keeps quiet in evil times." The words came down on us like sledgehammer blows. It is bearable to be accused by people, but when God condemns you as well, that is unbearable. We almost collapsed under the heavy load. But we were comforted again. The Holy Spirit explained the text to us through one of our brothers as follows - the prudent man keeps quiet in evil times, but he is silent in order to listen. To listen to God.
At that instant, the charge of the accuser was disproved and the terror vanished from our cell.
Listen to God and the tempter will flee from you.
Ferenc Visky is from Romania. He and his wife write in a moving way about their life with the Lord despite heavy persecution.
Copyright [C] 1995 Open Doors International. Used by permission.
Click here to sign up for a free monthly newsletter from Open Doors about persecuted Christians.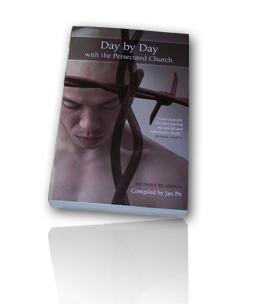 Day by Day with the Persecuted Church
compiled by Jan Pit with a forward by Brother Andrew (paperback, revised 2000)
Compelling wisdom from the pen of actual believers living amidst persecution, you'll be connected to the suffering, courage, and depth of life that exists in the harshest places in the world. Each of these 365 thought-provoking devotions will deepen your understanding of Christian persecution and provoke you to pray for our brothers and sisters with a new found depth.