from Day by Day with the Persecuted Church

They overcame him by the blood of the lamb and by the word of their testimony; they did not love their lives so much as to shrink from death. (Revelation 12:11)
Sister Chen
Are we willing to die for the Lord? That is a difficult question. A question that can be answered however is, are we willing to live for Him?
Sister Suk Wan was such a believer. She lived for the Lord, faithfully and courageously. She was arrested for her faith and thrown into prisons were she was beaten and tortured. She became seriously ill and requested to be brought to the town square to speak to the people. (People were often brought there to be shown to the public in order to deny the faith or to undergo self-criticism trials.) The organizers were convinced she wanted to deny her faith before she would die. Two policemen helped her onto the stage. She could hardly stand. She had bruises all over her face. She gathered her last strength and cried, "To God be the glory. Jesus is my Lord." Then she collapsed and died. She could die for the Lord because she had lived for Him.
"I have fought the good fight, I have finished the race. I have kept the faith. Now there is in store for me the crown of righteousness, which the Lord, the righteous Judge, will award to me, but also to all who have longed for his appearing" (2 Timothy 4:7-8).
Sister Chen is from China and is a pillar of God's house in this vast land. Due to security reasons, we cannot introduce her further to you, but her testimony speaks for itself.
Copyright [C] 1995 Open Doors International. Used by permission.
Click here to sign up for a free monthly newsletter from Open Doors about persecuted Christians.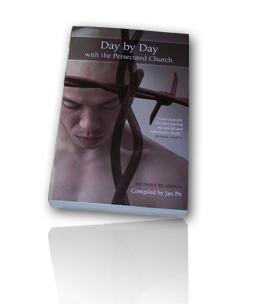 Day by Day with the Persecuted Church
compiled by Jan Pit with a forward by Brother Andrew (paperback, revised 2000)
Compelling wisdom from the pen of actual believers living amidst persecution, you'll be connected to the suffering, courage, and depth of life that exists in the harshest places in the world. Each of these 365 thought-provoking devotions will deepen your understanding of Christian persecution and provoke you to pray for our brothers and sisters with a new found depth.