from Day by Day with the Persecuted Church

But whatever was to my profit I now consider loss for the sake of Christ. What is more, I consider everything a loss compared to the surpassing greatness of knowing Christ Jesus my Lord, for whose sake I have lost all things. I consider them rubbish that I may gain Christ. (Philippians 3:7-8)
Open Doors Contact Person - part 2
The two Muslim students who accepted the Lord Jesus Christ started an outreach amongst the other students of the Islamic Secondary school. Eight months later one hundred and seventeen students had become Christians. All of them were sent away from the Islamic school. Many of them experience severe persecution from the community and their parents. Some parents have refused to pay for their tuition in other schools. Many young people had to leave their parents' home and now find themselves in a dilemma. Yet they are prepared to pay the price.
Let us pray for them and others who suffer for His name. Are we available to be an instrument or channel of His love in our own environment?
Copyright [C] 1995 Open Doors International. Used by permission.
Copyright [C] 1995 Open Doors International. Used by permission.
Click here to sign up for a free monthly newsletter from Open Doors about persecuted Christians.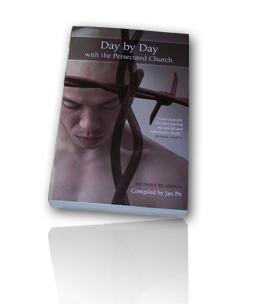 Day by Day with the Persecuted Church
compiled by Jan Pit with a forward by Brother Andrew (paperback, revised 2000)
Compelling wisdom from the pen of actual believers living amidst persecution, you'll be connected to the suffering, courage, and depth of life that exists in the harshest places in the world. Each of these 365 thought-provoking devotions will deepen your understanding of Christian persecution and provoke you to pray for our brothers and sisters with a new found depth.