from Day by Day with the Persecuted Church

So Moses went back to the Lord and said, "Oh, what a great sin these people have committed! They have made themselves gods of gold. But now, please forgive their sin, but if not, then blot me out of the book you have written." (Exodus 32:31-32)
Moses
This is one of the most moving and pathetic verses of the Old Testament.
Moses' intercession on Israel's behalf is an overwhelming lesson in love and concern. He made it clear to God that he wanted to die with his people if they were not spared. He offered the greatest sacrifice he knew,: his own relationship with God and his hope of eternal salvation. Of course Moses could not atone for his people; that is why Jesus had to come. But Moses was Christ-like as he offered himself. We can never be the atonement for sin as Christ was, but we can play a Christ like sacrificial role. When we intercede for others, our children, our family, our country, our brothers and sisters who suffer, they will be protected. In doing so I am willing to get the blows.
There is a great difference between prayer and intercession. Prayer is what you do for yourself, you pray for blessing, health, protection. Intercession is when you stand in the gap for others. Abraham was such an intercessor: praying for Sodom and Gomorrah. Moses interceded for others.
What about you?
Copyright [C] 1995 Open Doors International. Used by permission.
Click here to sign up for a free monthly newsletter from Open Doors about persecuted Christians.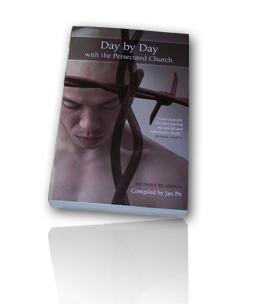 Day by Day with the Persecuted Church
compiled by Jan Pit with a forward by Brother Andrew (paperback, revised 2000)
Compelling wisdom from the pen of actual believers living amidst persecution, you'll be connected to the suffering, courage, and depth of life that exists in the harshest places in the world. Each of these 365 thought-provoking devotions will deepen your understanding of Christian persecution and provoke you to pray for our brothers and sisters with a new found depth.