from Day by Day with the Persecuted Church

On the Lord's Day I was in the Spirit, and I heard behind me a loud voice like a trumpet, which said: Write...
(Revelation 1:10)
Horacio Herrera
John was in the Spirit on the Lord's Day. He must have been in prayer, worshipping God, interceding for his "spiritual children" in Turkey. He must have been in tune with God. God can only reveal eternal truths to us when we are in touch with Him. No room for complaints, Lord get me out of this prison, Lord rescue me from this island of isolation, Lord I am of no use here, deliver me please.
If this would have been John's attitude, God would surely have revealed other things to him, His presence, His peace. But John was in touch with God. He was "in the Spirit." Despite the circumstances, suffering and loneliness, John was in tune with the Lord.
We too need to move our eyes away from circumstances and look up to God. "Let us fix our eyes on Jesus" (Hebrews 12:2). Not on problems, not on defeats, but on Him whose eyes "range throughout the earth to strengthen those whose hearts are fully committed to Him" (2 Chronicles 16:9). Maybe you are often lonely, in despair, in darkness. Be encouraged by John's situation and attitude. Be in the Spirit and transform your horrible Patmos into a beautiful place of worship. Then you will hear the voice of the Lord.
What more can we desire?
Horacio Herrera from Cuba. Because of his leading role in the Cuban Church, he writes using a pseudonym.
Copyright [C] 1995 Open Doors International. Used by permission.
Click here to sign up for a free monthly newsletter from Open Doors about persecuted Christians.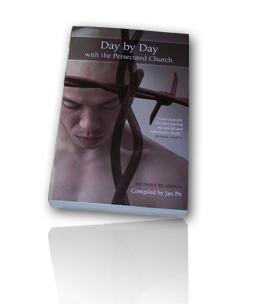 Day by Day with the Persecuted Church
compiled by Jan Pit with a forward by Brother Andrew (paperback, revised 2000)
Compelling wisdom from the pen of actual believers living amidst persecution, you'll be connected to the suffering, courage, and depth of life that exists in the harshest places in the world. Each of these 365 thought-provoking devotions will deepen your understanding of Christian persecution and provoke you to pray for our brothers and sisters with a new found depth.