from Day by Day with the Persecuted Church

We are therefore Christ's ambassadors, as though God were making his appeal through us ... Be reconciled to God.
(2 Corinthians 5:20)
Oswaldo Magdangal
Every Christian is an ambassador. We represent God by presenting Jesus Christ as Savior of the world. Every Christian has a story to tell. The greatest story that this world has ever heard is the story of the coming of Jesus Christ, to save a dying world. We are Christ's ambassadors in proclaiming that great story. The second greatest story this world can ever hear is still the story of Jesus - in the lives of Christians like you and me.
Let us not hold back that story - the Jesus story, but tell the world. Proclaim the greatest news - in words and deeds, without counting the cost.
"They overcame him by the power of the Lamb, and by the word of His testimony; they did not love their lives so much as to shrink from death" (Revelation 12:16).
What a challenge.
What a responsibility.
What a privilege.
Oswaldo Magdangal from Saudi Arabia. This Filipino brother ministered in Saudi Arabia where he testified of his Savior even while being threatened with hanging.
Copyright [C] 1995 Open Doors International. Used by permission.
Click here to sign up for a free monthly newsletter from Open Doors about persecuted Christians.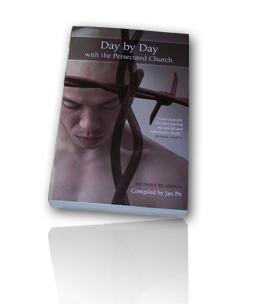 Day by Day with the Persecuted Church
compiled by Jan Pit with a forward by Brother Andrew (paperback, revised 2000)
Compelling wisdom from the pen of actual believers living amidst persecution, you'll be connected to the suffering, courage, and depth of life that exists in the harshest places in the world. Each of these 365 thought-provoking devotions will deepen your understanding of Christian persecution and provoke you to pray for our brothers and sisters with a new found depth.