from Day by Day with the Persecuted Church

This poor man called and the Lord heard him, and saved him out of all his troubles. The angel of the Lord encamps around those who fear him and he delivers them. (Psalm 34:6-7)
Oswaldo Magdangal
The religious police in Saudi Arabia, the so-called "Mutawa", interrogated and mistreated Brother Wally for many days. He was beaten in the face, punched and kicked. The flogging, on the back, palms of the hands and soles of the feet were the worst.
"In the midst of the flogging, the Lord stood beside me," Brother Wally testified. The torture lasted for two hundred and ten minutes - without interruption.
Later, Brother Wally said the following about it, "Boxers fight for twelve rounds at the most. Every round lasts three minutes, after which they get one minute of rest. They are massaged, they get something to drink, the wounds are tended to and everything else is done to get them to box for another three minutes. So they are in action for thirty-six minutes at most and they have about twelve minutes of rest. I was beaten and flogged for two hundred and ten minutes on end. But glory to God, after two hundred and ten minutes they came to an end because - they themselves were tired. I was still standing straight. No knock-out. God had supported me all the time. It was a miracle. The Lord was very close to me."
This is no theory, but practice. These are not pretty words about how God can help, but a testimony of strength in spite of suffering. The Lord allows suffering - sometimes even death - but, "I will be with him in trouble" (Psalm 91:15).
Oswaldo Magdangal from Saudi Arabia. This Filipino brother ministered in Saudi Arabia where he testified of his Savior even while being threatened with hanging.
Copyright [C] 1995 Open Doors International. Used by permission.
Click here to sign up for a free monthly newsletter from Open Doors about persecuted Christians.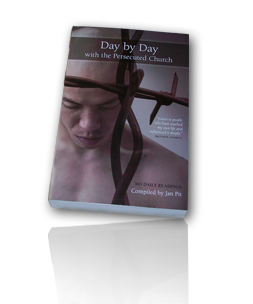 Day by Day with the Persecuted Church
compiled by Jan Pit with a forward by Brother Andrew (paperback, revised 2000)
Compelling wisdom from the pen of actual believers living amidst persecution, you'll be connected to the suffering, courage, and depth of life that exists in the harshest places in the world.  Each of these 365 thought-provoking devotions will deepen your understanding of Christian persecution and provoke you to pray for our brothers and sisters with a new found depth.
 To order your copy of this devotional, click