from Day by Day with the Persecuted Church

Remember those in prison as if you were their fellow prisoners, and those who are ill-treated as if you yourself were suffering. (Hebrews 13:3)
Joseph Ton
Suffering is a favor that is to be shared with the whole of Christ's Church.
If my hand hurts, I say, "I don't feel well."
If one part of the Body suffers, the Bible says (1 Corinthians 12) the whole Body suffers.
Millions of Christians in other countries are suffering. Do you feel the pain too? If they suffer, I, who am part of the same Body, should also feel pain. If we do something for persecuted Christians, we suffer with them.
For example, persecuted Christians always pray for a Bible of their own. Printing Bibles in the free world is very expensive. Those who are prepared to make a financial sacrifice for the printing of these Bibles suffer with those who have none. They work hard to send spiritual food to the people who suffer. When they receive their long-awaited Bible, they shed tears of joy.
Jesus said, "Whatever you do for one of the least of these brothers of mine, you did for me" (Matthew 25:40).
If a Christian is beaten, Christ suffers.
If a Christian is helped, Christ is helped.
If we pray for those who suffer, they will be comforted.
That is the way God works, and we are God's fellow-workers.
Joseph Ton from Romania. Joseph Ton describes a number of spiritual principles of God's faithfulness despite suffering. Edited with permission from the Dutch booklet entitled Lessen in Lijden. 
Copyright [C] 1995 Open Doors International. Used by permission.
Click here to sign up for a free monthly newsletter from Open Doors about persecuted Christians.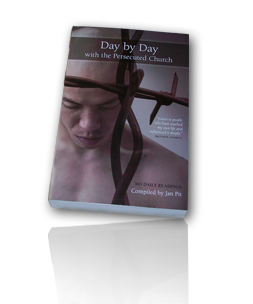 Day by Day with the Persecuted Church
compiled by Jan Pit with a forward by Brother Andrew (paperback, revised 2000)
Compelling wisdom from the pen of actual believers living amidst persecution, you'll be connected to the suffering, courage, and depth of life that exists in the harshest places in the world.  Each of these 365 thought-provoking devotions will deepen your understanding of Christian persecution and provoke you to pray for our brothers and sisters with a new found depth.
 To order your copy of this devotional, click