from Day by Day with the Persecuted Church

Whoever lives and believes in Me will never die. (John 11:25)
Joseph Ton
The Lord Jesus Christ delivers us from fear. Apparently, He does so in different ways. Hebrews 2:14 says, "Through His death." The Son of God loves me. He saw me with my sins, my failures, and my treason and even so He still loved me. He came to earth to take my sins upon Him. He died my death, went to hell - my hell - and He rose again. That is why Christ can say, "I was dead, and behold I am alive forever and ever! And I hold the keys of death and Hades" (Revelation 1:18). Christ died my death and now He says, "Death is My messenger" to invite you to heavenly glory.
A friend of Joseph Ton was once arrested by the police in Bucharest. One of the officers threatened to kill him, but Joseph smiled and said, "If you shoot me, I will enter eternal life. You cannot frighten me with that prospect!" He was not afraid to die, for a Christian will never die.
"Where, O death, is your victory? Where, O death, is your sting?" (1 Corinthians 15:55).
"For I am convinced, that neither death, nor life ... will be able to separate us from the love of God..." (Romans 8:38,39).
Joseph Ton from Romania. Joseph Ton describes a number of spiritual principles of God's faithfulness despite suffering. Edited with permission from the Dutch booklet entitled Lessen in Lijden.
Copyright [C] 1995 Open Doors International. Used by permission.
Click here to sign up for a free monthly newsletter from Open Doors about persecuted Christians.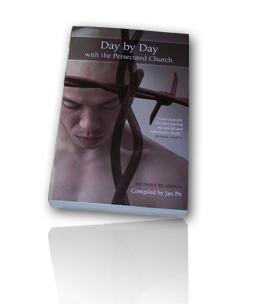 Day by Day with the Persecuted Church
compiled by Jan Pit with a forward by Brother Andrew (paperback, revised 2000)
Compelling wisdom from the pen of actual believers living amidst persecution, you'll be connected to the suffering, courage, and depth of life that exists in the harshest places in the world. Each of these 365 thought-provoking devotions will deepen your understanding of Christian persecution and provoke you to pray for our brothers and sisters with a new found depth.