from Day by Day with the Persecuted Church

...and I questioned them about the Jewish remnant that survived the exile, and about Jerusalem.
(Nehemiah 1:2)
Nehemiah
Though Nehemiah lived in exile, his conditions were pleasant. He enjoyed a comfortable lifestyle, had a good job and as the King's cup-bearer he held a high place of honor in the palace.
He had every reason to be content - but he was not. Not because of his own circumstances, but because of the circumstances of his fellow Jews in Jerusalem. His heart and mind were with them. When he met someone who had just come from Jerusalem he eagerly enquired how the people were doing.
Many Christians today dare not ask questions about the situation of the Body of Christ under persecution. Because, if they would ask, they would have to do something about it. Knowledge leads to responsibility, to love and to action. As for Nehemiah, it was not enough for him to live a life of comfort, while his brethren lived a life of discomfort.
May we be people who are grateful for what we may possess, and who are willing to do something for those who lack freedom of worship.
Nehemiah sets the example: pray and work. If you follow his example, God's people will be encouraged. And so will you.
Copyright [C] 1995 Open Doors International. Used by permission.
Click here to sign up for a free monthly newsletter from Open Doors about persecuted Christians.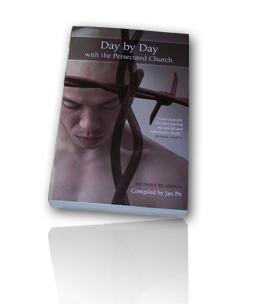 Day by Day with the Persecuted Church
compiled by Jan Pit with a forward by Brother Andrew (paperback, revised 2000)
Compelling wisdom from the pen of actual believers living amidst persecution, you'll be connected to the suffering, courage, and depth of life that exists in the harshest places in the world. Each of these 365 thought-provoking devotions will deepen your understanding of Christian persecution and provoke you to pray for our brothers and sisters with a new found depth.