from Day by Day with the Persecuted Church

When the foundations are being destroyed, what can the righteous do? (Psalm 11:3)
Ghassan Khalaf
During wars, moral and spiritual foundations are liable to be undermined and people tend to be permissive. They abandon God's laws and government laws. In Lebanon when militiamen dominated, the government was dissolved. A state of chaos and complete confusion emerged. The foundations were destroyed. In a situation like this, what can the righteous do?
Learning from our situation the righteous can prove that He is the foundation when moral and spiritual foundations are destroyed. The Christian is the law in the absence of law, and he is the conscience of the nation when morals deteriorate. The example of Christ is reflected in our lives in humanity's darkest hours. Christ is the light of the world, and we should let Him shine through us.
When foundations are destroyed, the righteous should not stand still. He must rebuild what is destroyed. Our call is not just to stand by and observe the destruction. Our call is to share in building up whatever is destroyed, especially in the moral and spiritual realm. What if what we have rebuilt is destroyed again?
The righteous should be determined to build it again and again and again.
Writer of the Month: Ghassan Khalaf from Lebanon. Amidst bombings and destruction, Brother Khalaf faithfully visited victims of war to encourage them in their faith.
Copyright [C] 1995 Open Doors International. Used by permission.
Click here to sign up for a free monthly newsletter from Open Doors about persecuted Christians.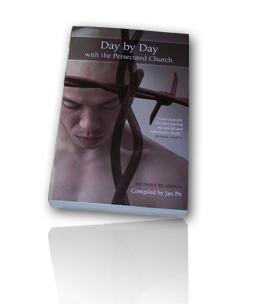 Day by Day with the Persecuted Church
compiled by Jan Pit with a forward by Brother Andrew (paperback, revised 2000)
Compelling wisdom from the pen of actual believers living amidst persecution, you'll be connected to the suffering, courage, and depth of life that exists in the harshest places in the world. Each of these 365 thought-provoking devotions will deepen your understanding of Christian persecution and provoke you to pray for our brothers and sisters with a new found depth.