from Day by Day with the Persecuted Church

I am the light of the world. (John 8:12)
You are the light of the world. (Matthew 5:14)
Lung Singh
Every Sunday afternoon was set aside for evangelism. The whole congregation was encouraged to take part. In the morning we would have our Sunday worship meeting, in the afternoon the Sunday service meeting: evangelism in unreached villages of Laos. Some villages were free - others were controlled by the Communist soldiers in the area.
When we entered a village where the Gospel had never been preached before, some people recognized Lung Singh. "Is that not the man who was more addicted to opium than anybody else?" they would ask.
I called Lung Singh and asked him to speak to the crowd. By now the whole village had gathered around us. Lung was not a great speaker - but he was a great example! He stood up and simply said this, "Look at me. Look at me. Don't I look great?"
I felt uneasy about his remarks. I almost told him to change his testimony, "Don't say, "Look at me," you should say, "Look at Jesus." "Before I could say anything, Singh had already sat down ... and the crowd was astonished, they wanted to know what had happened to Singh. Many hours later we left ... leaving a new group of Christians behind. They had seen the power of God. "You are the light of the world." They saw that light - and gave glory to the heavenly Father.
Does the world see the change of conversion in us? "Let your light shine before men, that they may see your good deeds and praise your Father in heaven."
Writer of the Month: Lung Singh from Laos. He did not write his own contributions, but Jan Pit has edited his experiences and remarks and printed them under his name in this devotional. His life story is recorded in the book No Turning Back by Jan Pit, Marshall Pickering, 1985. According to rumors Singh was killed by his brother because of his faith in Jesus Christ.
Copyright [C] 1995 Open Doors International. Used by permission.
Click here to sign up for a free monthly newsletter from Open Doors about persecuted Christians.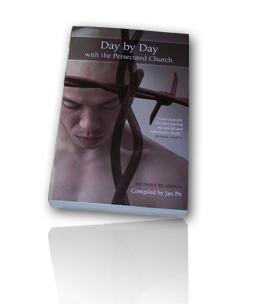 Day by Day with the Persecuted Church
compiled by Jan Pit with a forward by Brother Andrew (paperback, revised 2000)
Compelling wisdom from the pen of actual believers living amidst persecution, you'll be connected to the suffering, courage, and depth of life that exists in the harshest places in the world. Each of these 365 thought-provoking devotions will deepen your understanding of Christian persecution and provoke you to pray for our brothers and sisters with a new found depth.