from Day by Day with the Persecuted Church

If anyone is in Christ, he is a new creation, the old has gone, the new has come. (2 Corinthians 5:17)
Lung Singh
It was a beautiful day when Singh was baptized in the Mekong River. Many people listened to his testimony which he gave before his baptism. Among the spectators were Buddhist priests who knew Singh. They knew about his addiction to opium, about his conversion and deliverance from drugs and evil spirits. Singh finished his testimony by quoting from his love-song (he dare not sing, so he quoted from it). "I have decided to follow Jesus. No turning back, no turning back. The world behind me, the cross before me. I will follow Jesus - no turning back."
The congregation started to sing that song as Singh stepped into the river. After his baptism he looked at the fast flowing water in which he was baptized and said, "There goes my old life - the old has gone, the new has come."
Some days later, the Buddhist priests came to our house and wanted to know how Lung Singh had managed to break with the old way of life. "It is impossible that a man can break with opium after forty-five years," they said. "How did he do it?"
Lung Singh looked at them and smiled. "I didn't do it - God did. All He asked of me was a willingness to break with my sin and when I said "yes" - He did it in me." Christ can set us free - me and you.
From that day on, Lung Singh - at the request of the Buddhist priests, spoke in the Buddhist temple to other drug addicts about his deliverance - to the glory of God!
Writer of the Month: Lung Singh from Laos. He did not write his own contributions, but Jan Pit has edited his experiences and remarks and printed them under his name in this devotional. His life story is recorded in the book No Turning Back by Jan Pit, Marshall Pickering, 1985. According to rumors Singh was killed by his brother because of his faith in Jesus Christ.
Copyright [C] 1995 Open Doors International. Used by permission.
Click here to sign up for a free monthly newsletter from Open Doors about persecuted Christians.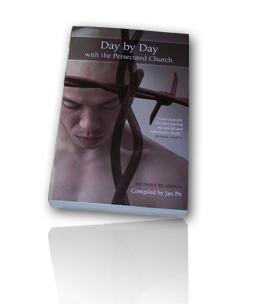 Day by Day with the Persecuted Church
compiled by Jan Pit with a forward by Brother Andrew (paperback, revised 2000)
Compelling wisdom from the pen of actual believers living amidst persecution, you'll be connected to the suffering, courage, and depth of life that exists in the harshest places in the world. Each of these 365 thought-provoking devotions will deepen your understanding of Christian persecution and provoke you to pray for our brothers and sisters with a new found depth.