from Day by Day with the Persecuted Church

Remember me with favor, O my God, for all I have done for these people. (Nehemiah 5:19)
I had rebuilt the wall and not a gap was left in it... (Nehemiah 6:1)
Nehemiah
Nehemiah was a man of prayer - and a man of action. There are seven mentions of prayers in the Book of Nehemiah. He prayed all the time, all the way through, about everything he did, and he prospered because he prayed. To Nehemiah prayer was fundamental, not "supplemental." He did not just pray for his work; his work grew out of his praying.
We can summarize his noble work by stating:
· So I prayed.
· So we built.
· There is power in prayer.
"I looked for a man amongst them who would build up the wall and stand before me in the gap on behalf of the land, so that I would not have to destroy it, but I found none" (Ezekiel 22:30).
In Nehemiah's case, God looked and found. What about you? Today?
Copyright [C] 1995 Open Doors International. Used by permission.
Click here to sign up for a free monthly newsletter from Open Doors about persecuted Christians.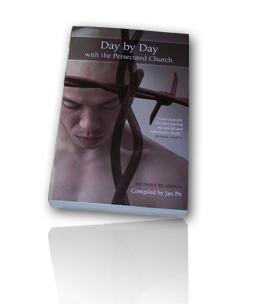 Day by Day with the Persecuted Church
compiled by Jan Pit with a forward by Brother Andrew (paperback, revised 2000)
Compelling wisdom from the pen of actual believers living amidst persecution, you'll be connected to the suffering, courage, and depth of life that exists in the harshest places in the world. Each of these 365 thought-provoking devotions will deepen your understanding of Christian persecution and provoke you to pray for our brothers and sisters with a new found depth.