from Day by Day with the Persecuted Church

Jesus had compassion on them and touched their eyes. Immediately they received their sight and followed him. (Matthew 20:34)
Irina Ratushinskaya
Our attention is usually focused on the miracle instead of on the attitude of the one who is cured. And those who were cured reacted in different ways. Some of them followed Christ immediately - others did what Christ told them to do.
How about us? Christ has also touched us - physically or spiritually. How did we react? Did we follow Him? Or did we just live on as if nothing had ever happened?
Perhaps we steered the middle course and said, "Lord, I am grateful and I intend to follow You, but I have to settle a few other things first. Furnish the house, paper the rooms, finish that new project," and so on and so on.
The longer man makes plans to do something, the less chance there is that he will ever carry them out.
Significantly, the Gospel according to Luke mentions the fact that out of ten people who were cured of leprosy by Christ, only one returned to thank Him. And Jesus" question was, "Were not all ten cleansed? Where are the other nine?" (Luke 17:17)
May the Lord never need to ask that question of you and me.
Writer for the month - Irina Ratushinskaya from Russia was imprisoned for seven years in a labor camp. She has written about her experiences in a moving book entitled Grey is the Colour of Hope published by Sceptre Books, 1989.
Copyright [C] 1995 Open Doors International. Used by permission.
Click here to sign up for a free monthly newsletter from Open Doors about persecuted Christians.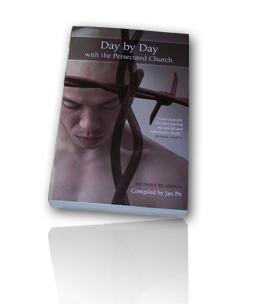 Day by Day with the Persecuted Church
compiled by Jan Pit with a forward by Brother Andrew (paperback, revised 2000)
Compelling wisdom from the pen of actual believers living amidst persecution, you'll be connected to the suffering, courage, and depth of life that exists in the harshest places in the world. Each of these 365 thought-provoking devotions will deepen your understanding of Christian persecution and provoke you to pray for our brothers and sisters with a new found depth.