Banish the Negatives 
by Berni Dymet
 
2 Cor.10:5 ...and we take every thought captive to obey Christ.
I'm a pretty positive sort of guy. But you know something -I still have a lot of negative thoughts. In fact recently, I decided to take note of the number of times each day that I'd have a negative thought.
That person's never going to change. We'll never raise the funds to do that. On and on. 
And I was shocked - really shocked - how many times a positive guy like me can think negative thoughts. And when you put it in perspective - each of those negative thoughts is - well, it's an affront to God. It's me saying - "I believe my circumstances more than I believe in God." Let me call it what it is - its sin.
So these days, whenever I feel a negative thought slipping in under my guard, I replace it with what God's saying. "I can do all things in Christ Jesus who strengthens me. If I have faith the size of a mustard seed, nothing, nothing will be impossible for me."
I can't tell you what a difference it's made.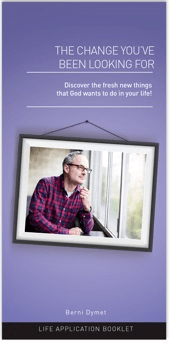 Your FREE eBooklet - "The Change You've Been Looking For"
So many people yearn for a better life, which is why "self-improvement" is a multi-billion dollar industry. But the truth is, it doesn't work, because the big changes, the truly important changes, are impossible to achieve on your own. That's why Jesus came. So if you want to lay hold of the "super-abundant" life that He promised (John 10:10) download this free eBooklet, because that's what it's all about. The change you've been looking for!