Banish the Negatives
by Berni Dymet

2 Cor.10:5 ...and we take every thought captive to obey Christ.
I'm a pretty positive sort of guy. But you know something -I still have a lot of negative thoughts. In fact recently, I decided to take note of the number of times each day that I'd have a negative thought.
That person's never going to change. We'll never raise the funds to do that. On and on.
And I was shocked - really shocked - how many times a positive guy like me can think negative thoughts. And when you put it in perspective - each of those negative thoughts is - well, it's an affront to God. It's me saying - "I believe my circumstances more than I believe in God." Let me call it what it is - its sin.
So these days, whenever I feel a negative thought slipping in under my guard, I replace it with what God's saying. "I can do all things in Christ Jesus who strengthens me. If I have faith the size of a mustard seed, nothing, nothing will be impossible for me."
I can't tell you what a difference it's made.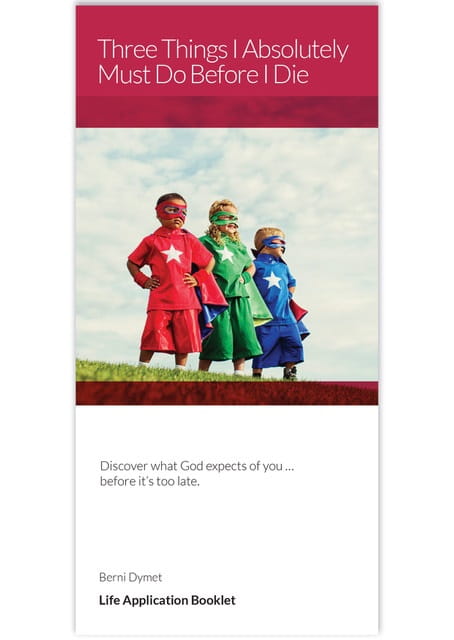 YOUR FREE BOOKLET – THREE THINGS I ABSOLUTELY MUST DO BEFORE I DIE
Here's a vital question for you to consider: If you died tonight, would you be ready for eternity? Now, many people know that it's all about having a simple faith in Jesus Christ. Nothing more, nothing less. But … do you have the sort of faith that Jesus talked about? To help you answer that question for sure, that's what our latest Life Application Booklet is all about: Three Things I Absolutely Must Do Before I Die. We would absolutely love to send you your very own FREE copy to help you make sure that you have the right answer, to the most important question of all.