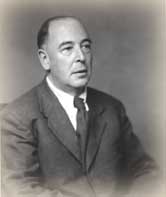 Individuals have surrendered their lives to Christ in all sorts of places. The revivalist Charles G. Finney converted in a woods; John Newton, author of the hymn "Amazing Grace," repented while lashed to a ship's wheel in a storm; Chuck Colson, founder of Prison Ministries, asked God into his life while crying in a car on a roadside. C. S. Lewis converted while riding to a zoo in his brother's motorcycle side car.
"When we set out I did not believe that Jesus is the Son of God and when we reached the zoo I did." Jack (as he preferred to be called) had earlier become a theist--one who believes there is a God. He was converted to full Christianity on this day, September 22, 1931 following a long talk he'd had on the 19th with two Christian friends: J. R. R. Tolkien and Hugo Dyson.
Tolkien, who was soon to create the most imitated fantasy of our century, The Lord of the Rings, argued that even some myths can originate in God, preserving truth, however distorted. One might do God's work by writing myths. Lewis doubted myths embodied truth at all. The three argued until 3 A.M. when Tolkien went home. Dyson and Lewis walked and talked some more. Dyson insisted Christianity works. It puts the believer at peace, frees him of sin, and provides outside help to straighten him out.
On Christmas Day, C. S. Lewis joined the church and took communion. He felt that faith had given him a solid footing; he had lacked a sense of direction for his talent. By the middle of 1932 he had written the first of the many books which made him one of the best-loved 20th century Christian apologists: The Pilgrim's Regress. He would go on to create his own wonderful fantasy world: Narnia.
Asked to present a series of radio talks, he gave the broadcasts which were brought together in his book Mere Christianity. These include probably the most famous quotation of all apologetics: "A man who was merely a man and said the sort of things Jesus said would not be a great moral teacher. He would either be a lunatic--on the level with a man who says he is a poached egg--or else he would be the devil of hell. You must make your choice. Either he was and is the Son of God: or else a madman or something worse. You can shut him up for a fool, you can spit at him and kill him as a demon; or you can fall at his feet and call Him Lord and God. But let us not come with any patronizing nonsense about his being a great human teacher. He has not left that open to us. He did not intend to."
Lewis married an American divorcee, Joy Gresham. She contracted a painful cancer. The story of her dying and his grief has twice been filmed as Shadowlands.
Bibliography
Gresham, Douglas H. Lenten Lands; My childhood with Joy Davidman and C. S. Lewis. New York: Macmillan, 1988.
Lewis, C. S. Mere Christianity. New York: Macmillan, 1970.
--------------. Surprised by Joy. New York: Harcourt, Brace and World, 1955.
"Lewis, Clive Staples." Dictionary of National Biography. Edited by Leslie Stephen and Sidney Lee. London: Oxford University Press, 1921 - 1996.
Petersen, William J. C. S. Lewis Had a Wife; Catherine Marshall Had a Husband. Wheaton, Illinois: Tyndale House, 1986.
Sayer, George. Jack; C. S. Lewis and his Times. San Francisco: Harper and Row, 1988.
Wellman, Sam. C. S. Lewis; Author of Mere Christianity. Urichsville, Ohio: Barbour, nd.
Various other accounts of Lewis' life in books, encyclopedias and on the internet.
Last updated April, 2007.