We've been duped by a myth about what traditional "education" will guarantee for our futures.
This is an increasingly common theme. We have been sold a bill of goods in thinking that a degree will guarantee fame and fortune. Recent graduating MBAs are finding a very uncertain job market in an economy that's forced companies to delay hiring plans and maybe not even show up at the campus career fairs. Part of this is a somewhat stagnant business environment and part is that the MBA has lost some of its appeal to the business world.
Several years ago I met with a good looking young man who 19 months prior to seeing me had graduated with his MBA from one of the most prestigious MBA programs in the country. He had sacrificed a great deal of time and money to get the degree, fully confident that there would be a selection of $80K/yr jobs lined up for him. However, in 19 months of heavy interviewing, he had not been offered a position of any kind at any income figure. In working with him, it was quickly apparent that he came across as arrogant, condescending, and egotistical. Fortunately, with the pain of no positive results, he was quite teachable and we were able to change his personal presentation quickly and get the opportunities he had been seeking.
"I have never let my schooling interfere with my education." --Mark Twain
Several years ago a Yale University study reported that 15% of the reason for a person's success is due to technical skill and knowledge, and 85% of the reason originates from that person's personal skill: attitude, enthusiasm, self-discipline, smile, tone of voice, desire, and ambition.
This is why candidates with the best qualifications on paper frequently do not get the job. But what an opportunity to bypass those with perhaps more experience and better credentials. Take advantage of this insight to make yourself a top candidate. Maximize your "human capital."
The greatest obstacle to discovery is not ignorance -- it is the illusion of knowledge. -- Daniel J. Boorstin From the Bible:
"Stop fooling yourselves. If you count yourself above average in intelligence, as judged by this world's standards, you had better put this all aside and be a fool rather than let it hold you back from the true wisdom from above. For the wisdom of this world is foolishness to God. As it says in the book of Job, God uses man's own brilliance to trap him; he stumbles over his own 'wisdom' and falls. And again, in the book of Psalms, we are told that the Lord knows full well how the human mind reasons, and how foolish and futile it is." I Corinthians 3: 18-20 (TLB)
Direction for Today:
What unique areas of "human capital" do you have? How have you used those for unusual success?
---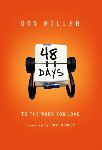 Dan Miller is President of The Business Source, founder of "48 Days" and author of 48 Days To The Work You Love and 48 Days To Creative Income. He is the growing authority for creating effective life plans that are achieved by integrating natural gifts, unique personality traits and one's own values and passions. His unique clarification of how God gifts us will introduce you to a new sense of freedom and fulfillment of your life's calling. For more information, visit http://www.48days.com/.
---
Originally published August 29, 2007.