We'd Love to See You This Summer!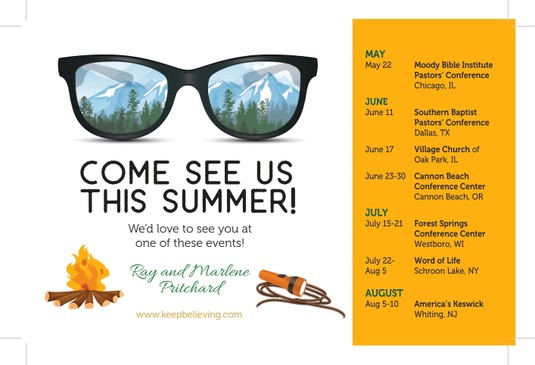 Just a reminder that our summer schedule is underway. Here are the links where you can find more information:
Southern Baptist Pastors Conference: https://bit.ly/2JcaYxM
Village Church of Oak Park: https://villagechurchoakpark.com/
Cannon Beach: http://www.cbcc.net/
Forest Springs: https://www.forestsprings.us/
Word of Life: http://camps.wol.org/
America's Keswick: https://americaskeswick.org/
Special note: Our son Mark is speaking with me at America's Keswick. He'll handle the morning sessions, and I'll speak in the evening.
We'd love to see you this summer!
Click here to sign up for the free email sermons.
---
---